Pilot Outlook by Region Map ( Boeing 2018 Market Forecast Report)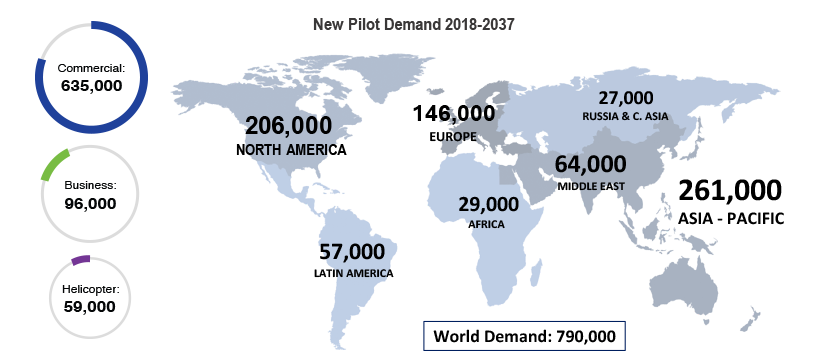 Boeing Pilot Outlook: 2018 – 2037
As the pilot labor supply has continued to tighten around the world, regional markets that have relied heavily on recruiting pilots from outside their home locations are increasingly seeking to recruit, train, and develop locally sourced pilots. Cadet programs that train aspiring pilots from zero flight hours to being an operationally ready first officer have increased in popularity as airlines look to provide career pathway programs and fill future pilot pipelines.
An advantage of today's data-rich environment is the ability to assess knowledge gaps as they occur. This enables training adjustments that produce more competent and qualified pilots. Recognizing the benefit of training in a true operational environment, Boeing's 737 MAX training has been developed with this philosophy in mind. Pilots are trained as a crew from day one, ensuring communication and teamwork are integrated into the curriculum.
Over the next 20 years, the Asia Pacific region will lead the worldwide growth in demand for pilots, with a requirement for 261,000 new pilots. North America will require 206,000, Europe 146,000, the Middle East 64,000, Latin America 57,000, Africa 29,000 and Russia/ Central Asia 27,000.
Bilgi Hattı :   APPLICATION FORM
SUKRU YESILER  
e-mail : info@interpilotacademy.com               GSM    : 00 90 542 427 44 74